Midnight Musings
PEACE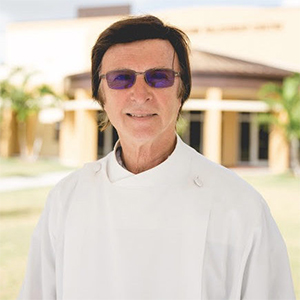 Jesus Christ is risen! He is risen indeed!
We hear of peace throughout life and mission of Jesus. Angels sang about peace on earth when he was born. Peace is his gift to disciples at the Last Supper. Peace is first words to disciples after resurrection.
Peace remains the issue in 21st century or 1st century. Now: War in Ukraine and terrorism throughout world; racial and ethnic tensions in south Florida; family and personal anxieties. In the first century of the Church: internal tension between Jew and Gentile believers; external persecution by the Roman Empire; Jesus taking leave from disciples and going to his death. Yet we hear Jesus say at the Last Supper: "Peace I leave with you, my peace I give to you. Not as the world gives do give it to you." The world's peace: peace when things are under control: family, finances, health; but when does that happen? "My peace"- as he goes to his death! Jesus' peace comes from presence of his Father. Not when all is under control, but despite everything falling apart, Jesus trusted his Father. Our peace from the same Father who lives with us and Jesus who came back from death to be with us and from power of Holy Spirit. What peace flows from presence of Father and Christ?
Loneliness and isolation are great social and ethical problems of our time. Today in the United States approximately 25% of all adults live alone. Half of adults are unmarried. Spouses/parents/children can be virtual strangers to one another. We have the largest world population, yet the greatest sensitivity to loneliness. Humans may never get love right, but God is anxious to have a relationship with us.
Easter celebrates the presence today of Jesus and his Father, not just the resurrection event 2000 years ago. Jesus promises in the gospel: "We [the Father and I] will come and make our dwelling" with believers. God and Jesus dwell with those who keep his word, who believe, love and obey. The Father and Son do not just visit, they live with us and share our life.
As Jesus addresses his disciples at the Last Supper, he teaches that his death, his physical departure, will not end his loving presence. Having a new life with the Father, he will continue in a new way with his disciples. The "absent" one will be present to whose who love him and keep his word; he will be with them through the Spirit. The Advocate will replace Jesus' physical presence, teaching them all things and recalling what Jesus has said. "Paraclete," originally drawn from a court room context meant a legal assistant or advocate, The broader meaning of Paraclete is helper, guide, comforter, and teacher. We disciples are not alone. We live in the presence of and by the power of the Father, Son and Spirit.
Jesus Christ is risen! He is risen indeed!
Yours in Christ,